Dumpster Diving in Jamaica Plain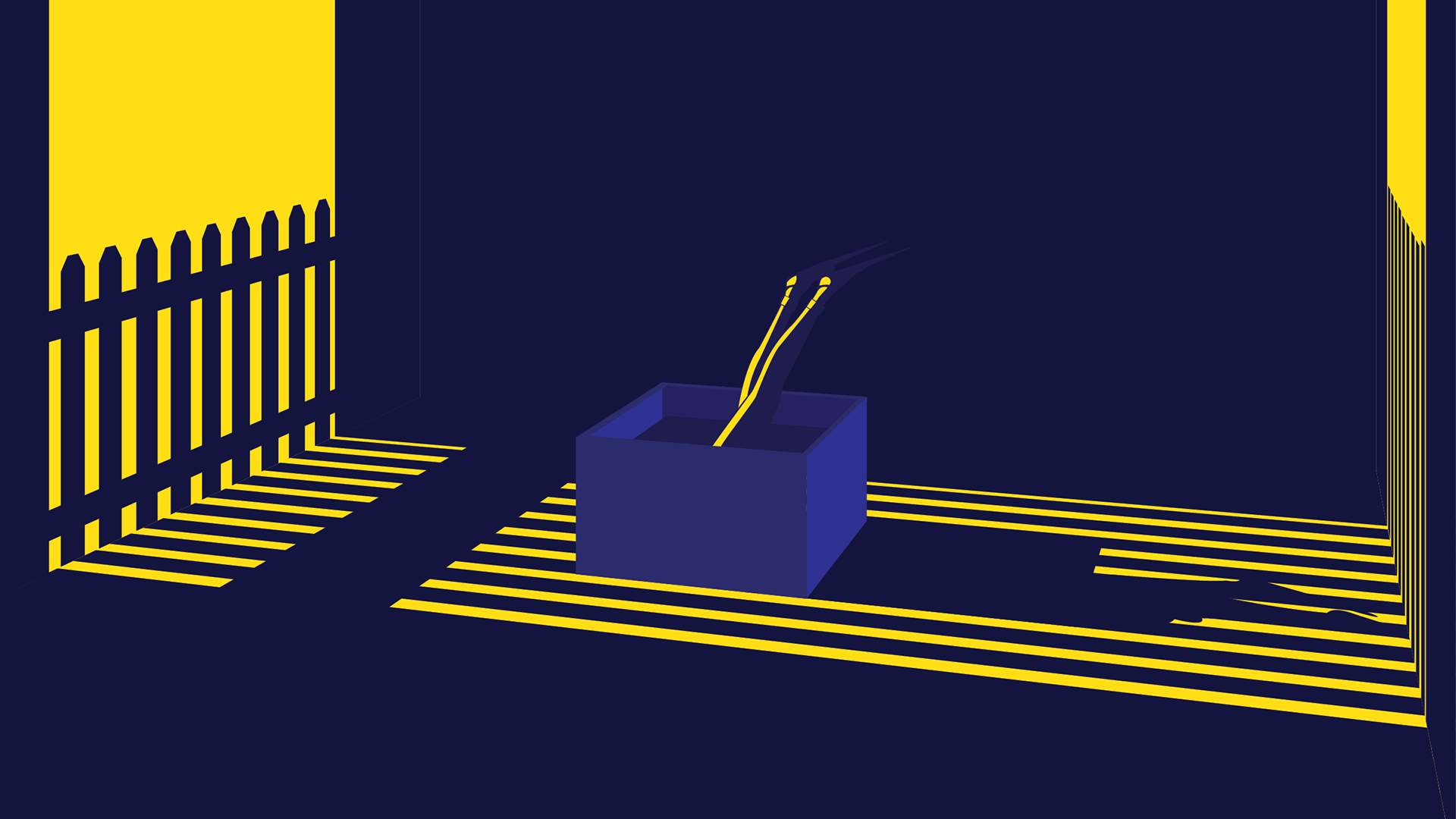 The most dramatic piece at the recent opening of the Gone Here exhibit at the SEPTEMBER Gallery in Hudson, New York, was the oddly reflective painting on the back wall. It stood alone, as a four-feet-by-four-feet square, and had a peculiarly simple composition: A thin mandala of green stalks with flowers of all colors and sizes, which snaked its way around the perimeter of the canvas, the rest of which was filled with an assortment of grays. It was a simple composition. So simple, in fact, that you might've dismissed this painting, relegating it to a quick glance before hitting the sauvignon blanc at the open bar. 
You'd have done it a disservice. This was not just another painting. This was a Sheila Gallagher painting, which meant that it had been through hell. Well, if hell is a red-hot oven that's capable of melting plastic.
Some artists like oil paints. Other painters prefer watercolors, or the denser gouache materials. Sheila Gallagher likes plastic, and this painting was her latest piece to be composed entirely of the polymer-based material. That's right: the only paint on this "painting" were the oil pigments contained in the several hundred tiny pieces of melted plastic that were intricately laid out on the canvas. All those tiny pieces were once milk cartons, credit cards, water cups, LEGO bricks — any found plastic objects Gallagher could get her hands on. Like, literally any piece of plastic.
"Are you done with that?" she asked, gesturing towards my empty takeaway coffee cup that I'd gotten on the way over to her studio. I said yes, expecting to be asked to put the cup in the trash, but instead Gallagher reached over, promptly pried off its lid, and cut it into small, exact ovals using a pair of scissors that seemed to appear out of thin air. "Could make for good petals, you never know," she said, which was followed by her signature light chuckle.
This caffeinated journalism student is only one source of material for Gallagher: Her friends routinely come to the studio to drop off used yogurt cartons, tupperware containers, and old toys that their children didn't want any more. But it doesn't stop there: all of these objects can be usually found in the trash, and sometimes it's the best place to look. "There's been a few times where I've had to do some dumpster diving," Gallagher said. "The neighbors think I'm crazy."
"She's never made me do that," her studio assistant Steven Gleason said. "But she did make me carry 25 concrete blocks up three flights of stairs. That day sucked."
Gallagher takes her findings and lugs them back to her studio, which is on the second floor of a pre-war industrial building on Brookside Avenue, in the artist-friendly Jamaica Plain neighborhood of Boston. Big windows illuminate an airy, single-story space about the size of a cargo container. The several ink-strained and paint-splattered desktops around the corners of the room are supported by pairs of heavy-looking wooden trestles, which are needed to help withstand the weight of the giant buckets of plastic that Gallagher will sometimes plonk down on the desks. One wall features a number of works in progress — ink drawings, the ones that didn't quite make it into Gone Here — and the opposite wall is plastered with scores of personal treasures: poems, hand-written letters, a drawing of the moon by her son Jude, and a printed-out webpage of a New York Times recipe for colcannon with a scrawled inscription that read "MUST TRY."
It's a cool spot: Clear out some of the plastic, get a decent espresso machine and a few mustachioed baristas named Niko, and it might be mistaken for the local independent coffee shop. It's surprisingly orderly, too — the plastic is sorted into color-coded bins that are stacked away in shelves near the door, the floor and countertops are clear and clean, and Gallagher even has her X-ACTO knives arranged neatly in a row, with all the blades facing out the same way. "I can't even begin to work if it isn't clean," Gallagher said. "When I procrastinate, I start tidying." 
It's a fascinating working preference for someone whose work is anything but neat and tidy: Gallagher is a multimedia artist, which means that unlike most artists she operates with a variety of different art forms. "She doesn't put medium first, she puts message first," fellow studio resident and artist Ben Wilson said. "Whatever medium fits the message is the medium that she'll use — it's an unusual approach." According to Wilson, a clear example of this style can be seen in Gone Here, which features the plastic painting, two ink drawings, a collage, 789 clay sculptures, a shrine, a photographic diptych, and two video art pieces. "It's about the theme of the work," Wilson said. "It can seem chaotic at first, before you put the pieces together."
Not only is Gallagher across many disciplines as a practicing artist, she also juggles many different identities in professional life. She's a professor and the head of the fine arts department at Boston College; the co-director of the Becker Collection, an archive of drawings from the Civil War; the co-founder of The Guestbook Project, an international peace-building project that recently presented at the Smithsonian Museum of American History — and her most recent ball to juggle has been Brookside Artists, a collective which is trying to stop her building from being sold to luxury condominium developers.
"10 years ago, this whole stretch of Jamaica Plain was full of artists," Gallagher said, gesturing to the street beyond the studio's windows. "That's all changing now." The building next door was one of the first to go. "You had 16 artists in there, three small businesses," Gallagher said. "Now they have nowhere to go."
The buildings in and around Jamaica Plain are supposed to be protected by the City's zoning laws. Gallagher's studio, as well as many others, are zoned as light industrial — not for residential use. What's with all the condos? The Mayor has waived the zoning restriction almost every time an appeal has been brought, rendering the zoning plan redundant. "We're contributing not only to the culture, but also to the economy," Gallagher said. "What are these luxury apartments contributing to Jamaica Plain?"
Not much, it would seem. Developments like these contribute to rising rent prices, which is threatening Jamaica Plain's status as an artistic and diverse Boston stronghold. Some fear the neighborhood will lose some of its character — its unique, artsy funkiness, its independent bodegas and restaurants — if some of its creative residents have to move out. 
They're putting up a fight though: Gallagher and her fellow artists are petitioning the city council and participate in town hall meetings, and don't plan on stopping until they get to keep their Jamaica Plain, which, in a strange way, isn't unlike one of Gallagher's plastic paintings: a melting pot of misfits, all thrown together to make something bizarrely harmonious and beautiful.