One Large Latte and a Tabby Cat to go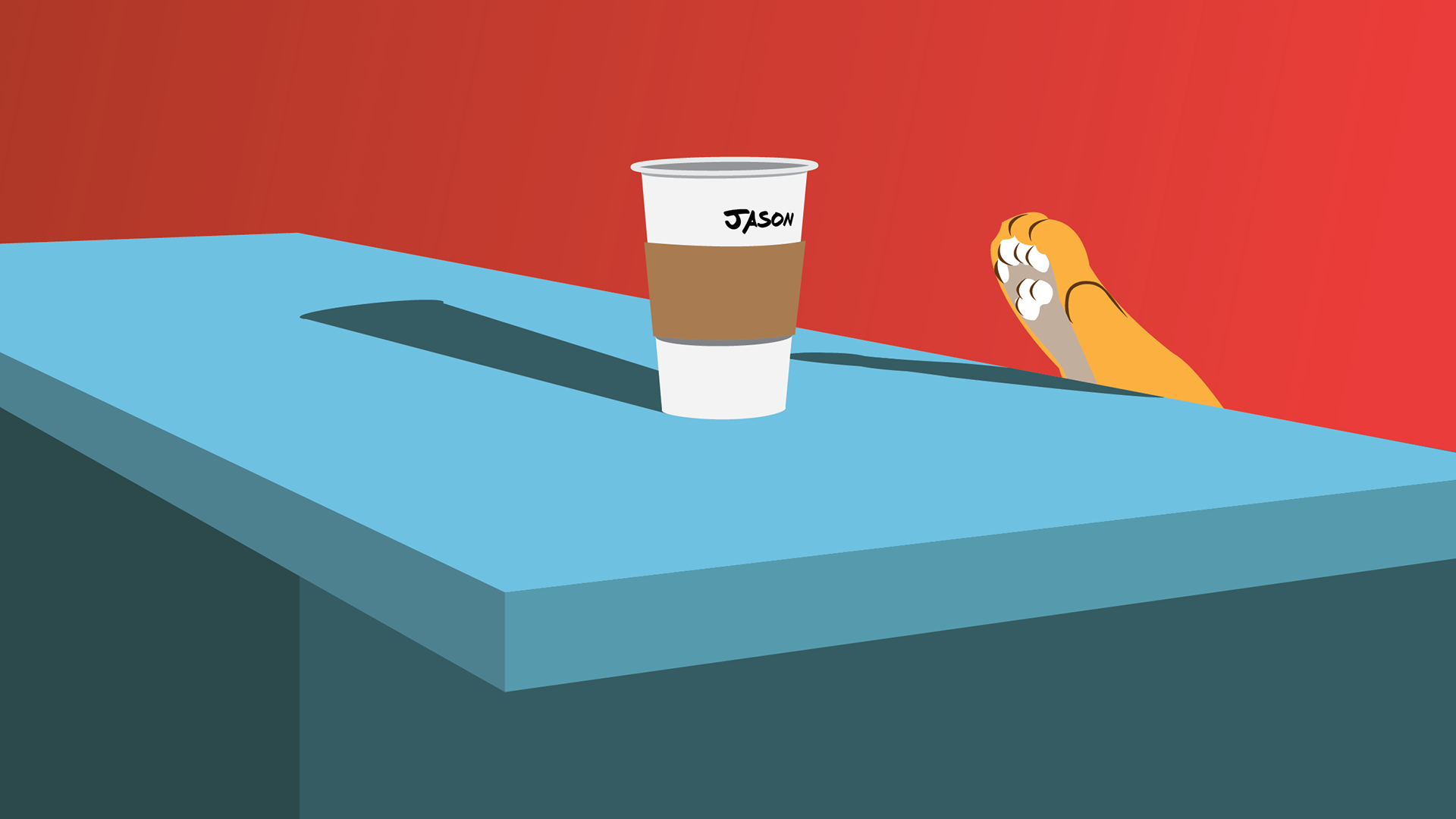 The residents of one street in Brighton had gotten used to seeing unusual things. 
Orthodox Jews kvetching in makeshift sukkot late into the night. Devout Muslims making their way to Yusuf Mosque for the jumu'ah prayer at noon on Fridays. A former Chopped star preparing fresh mango lassis in her Mediterranean restaurant. Buddhists heading to sword karate sessions at the Shim Gum Do temple. Little girls chatting loudly after a long day at the local Jewish preschool. Wild turkeys holding up traffic for minutes at a time. 
This is it, they thought. This block can't get any weirder.
They were wrong. Later this year, a cafe will open in this neighborhood. It will have all the ordinary features of a coffee shop: couches, armchairs, tables, espresso machines.
It will also have 20 cats. Purr Cat Cafe is Boston's first cat-harboring coffee shop, following the lead of places such as Crumbs, a similar establishment in Washington, D.C. Founded by Diane Kelly, a former aid provider, Purr will be a home for cats without homes — until they're adopted, that is. 
If there's a place in Boston where something as bizarre as a cat cafe can thrive, it's Chestnut Hill Avenue in Brighton. Divides are deepening across the country, but this little neighborhood between a fire station and a block of student apartments never got the memo. Its diversity and inclusiveness represents the best of America — and is a reminder of the promise the country still holds as a melting pot of different communities.
With its pitched roof, red-brick facade and well-kept lawn, Yusuf Mosque looks more like a small family home than a place of worship. The entrance does little to dispel this; neat rows of shoes line one side of a corridor, and mosque-goers' jackets hang from a coat rack on the other. A crowded, colorful cork-board hangs on the back wall.
"We love you and cherish you as key members of our communities," one heart-shaped sticky note on the board reads. "No one could belong more in this melting pot of a country."
Other notes get right to the point. "Be nice in the MOUSQUE," says one piece of paper, which features skilled crayon work and drawings of balloons in thick, black marker ink.
There are several dozen such comments. Locals usually write them after stopping by at the mosque's monthly community outreach night, which is under way tonight. It's a popular event: Groups of middle-aged non-Muslim neighbors wearing their Sunday best greet the imam like an old friend. Regulars give a warm welcome to the curious uninitiated, and answer questions they might have about the mosque and Islam.
The mosque is surprisingly large considering how small it looks from the outside. Its modest facade leads into an airy, spotless space roughly the size of an ice-hockey rink, which holds between 600 and 1,000 people during daily Ramadan services. Several large ceiling fans turn softly. The spongy, deep blue carpet soothes after a long day in shoes. Light filters through the door-sized windows, and kids roll around and play on the floor.
It's easy to see why local Muslims make the time to come to Yusuf Mosque. The space is relaxing and serene — two words you don't often hear associated with Islam in news coverage.
"Right now people have a misunderstood view of Islam," says Yusuf Agha, an IT consultant in a checkered shirt and charcoal-colored quarter-zip jacket. "That's why it's really important for people in communities to reach out and try to understand each other."
Despite having a demanding job filled with client meetings, Agha fits in time to attend the jumu'ah prayer during his lunch hour on Fridays. During Ramadan, he comes to the mosque after work every day and joins fellow observers for meals in the cafeteria downstairs. Some families volunteer to cook for the congregation. One unusual dish consisted of noodles and fish curry. The family was Japanese.
"I had never met a Japanese Muslim before," says Yusuf Nasrullah, a biochemist doing cancer research in Cambridge. "That was really amazing."
The congregation at this mosque hails from all over: Nasrullah grew up in Pakistan, and Saudi Arabians, Armenians, Syrians, and Turks all regularly visit. 
Yusuf Mosque is popular. "There is great camaraderie here," says Nasrullah. It boasts a 4.8 out of five-star rating on Google. "A wonderful multicultural mosque with a lively community and good mix of educational programs," one reviewer writes. Another review simply says, "the best."
But what do they think about cats?
"It is well known that the prophet was very fond of cats," says Nasrullah. "In Islam cats are considered clean — they are loved."
One cold January day last year, Nasrullah visited the famous Blue Mosque in Istanbul. "The mosque was freezing," he says. "They had opened the steel doors and installed flaps at the bottom."
The reason? The imam wanted to let cats come in from the cold, icy steps in front of the mosque. Istanbul has around 200,000 stray cats, and many Muslims in the city care for them as if they were their own pets. The cats often take refuge in mosques.
"The doors opened up, and all the cats marched in and found comfortable spots on the carpet," says Nasrullah. "It was beautiful to see that every man would finish his prayer and go and play with these cats."
As for the idea of a cat cafe, Nasrullah is all for it. "I'm already there," he says.
The outreach event winds to a close, and one Muslim father helps his young daughter put on a pair of tiny baby-blue rubber shoes as she drinks from a small pink water bottle. On the bottle is a picture of an animal wearing blue glasses. The animal? A cat.
The cafe is sparking strong reactions from locals on both sides. "Why do you need your cats to eat alongside you?" asks Peyton Howard, a regular at Fuel America, the coffee shop across the street from Purr. "That's kind of gross, right?"
Others are lapping it up. "I love cats. They're so good," says Cameron O'Doherty, an Irish exchange student at Boston College who lives in the area. "My cat knows how to use our toilet, actually."
Is this true? Yes. It's weird.  
A stoplight away from the mosque, customers of Dates and Olives order rice bowls with freshly cooked falafel. Pale green chairs around simple white tables and a salad bar break up the otherwise sparse room. At the back of the restaurant, the cooks' muffled singalong to Elton John's Goodbye Yellow Brick Road makes its way through the swinging kitchen doors.
Several drawings featuring a cadre of colorful characters are taped to the wall next to the fridge. "Aren't they good?" asks restaurant owner Renita Mendonca. "My husband made them. He's six years old."
"Sorry, did I say husband? I meant my son," she quickly adds. "His name is Liam."
As every napkin dispenser in Dates and Olives will tell you, Mendonca was a contestant on the TV show Chopped. Now she just wants to make great Mediterranean food.
"We wanted to make food that was preservative free, made from scratch — everything is locally sourced," Mendonca says. "Mediterranean food is healthy. You could eat it every day and it could still be healthy for you."
The operation started as a storefront in Natick, Massachusetts five years ago. "We outgrew the business so we came here," says Mendonca. September will mark Dates and Olives's second year at its Chestnut Hill Avenue address. 
Mendonca feels good about the forthcoming felines. "I love animals in general, so I'm okay with dogs and cats next to me," Mendonca says. "It'll bring more people to the area. It's a business and everyone needs to make a buck."
With its all-day breakfast menu, Moogy's Restaurant next door doesn't concern itself with a healthy agenda like Dates and Olives. "Our $1 PBR drafts are the stuff of legend," Moogy's says on its website. Its trippy, rainbow-hued menu looks like it could be a piece of That '70s Show fan fiction. Hungover Boston College students with messy hair order sandwiches such as "cow meets egg" and "DUMPSTER" in taxi-sized booths equipped with obscure board games. Each booth has a series of funky colored lights, and low-hanging LED strips are strung all around the restaurant.
Beyond the long wooden bar is the order window. Above it, a neon sign reads "MOOGY'S GOOD EATS," except some of the letters don't light up, so from a distance it looks like it's saying "MO GO TS." 
The staff in the kitchen hasn't heard about Purr. "Don't know anything about it,"  a cook calls out from behind a large series of steel shelves.
Fuel America, refuge of hip Boston College students who prefer it to the Starbucks several blocks away, doesn't know much about it either.
"A cat cafe? What even is that?" says one barista. Another shrugs. They're busy serving the café crowd. Fuel is a popular spot, and on Sunday afternoons  every inch is staked out by scores of Boston College students staring intently into laptop screens for hours on end.
People flock to Fuel for its flavorful, locally roasted coffee and trendy decor. The space is about the same size as a tennis court: Big, uninterrupted walls of glass frame the series of two-seat tables at the front of the cafe, and a large reclaimed-wood table stands dangerously close to the array of pastries behind a glass panel at the counter. Branded T-shirts and hats are stocked on a shelf across from the bar. The back of the cafe has a dimmer, more secluded vibe, which seats students with heavy stacks of books and big bags under their eyes. 
Fuel has become the go-to independent off-campus coffee shop, and the real engine behind the block. Regulars will often cap off a day's work at Fuel with a falafel sandwich from Dates and Olives or a Trash Can hoagie from Moogy's. Its loyal fan base has made Fuel a success, and two new Fuel outlets have opened up in Logan Airport.
How Fuel stacks up against its furry competition remains to be seen. Cat café owner Diane Kelly had to play a long game of cat-and-mouse with the city's Zoning Board of Appeals, but Purr has finally been approved and construction is underway.
Peering through the storefront window reveals piles of construction materials, which will soon transform the empty strut-lined space into a fully finished cafe kitted out with various play zones, seating areas and a reception desk. 
A large part of the cafe's focus is socially driven: Purr is working with Boston shelters to provide cats to its visitors. "Purr Cafe will be a safe haven for homeless cats until they find their forever home," Purr says on its website. "We will also work diligently to provide a great environment for our hooman friends to enjoy the company of our cats."
Some hoomans have expressed concerns about the hygiene of eating food prepared around cats, but it turns out the food will be supplied by a local vendor. Just who that vendor is remains unclear, but the cafe's focus is less on whipping up some intricate latte art than on matching families and would-be pet owners with stray cats to take home.
The cost of a one-hour session with the cats will be $15, not including food and beverages. Purr is also planning events with a community focus, such as yoga with the cats. How exactly yoga with cats works is not detailed by Purr online, but it's easy to imagine patrons doing the downward dog next to their favorite tortoiseshell kitten. And no, you can't bring your cat in with you: All cats will be approved by a local animal shelter first. 
No doubt about it: Purr is strange. But here on this street, on this block, it might just work. In this most inclusive of neighborhoods, maybe something as divisive as the cat can be welcomed — even celebrated. If a ragtag bunch of religious sanctuaries, businesses, families, and students can call this place home, why not 20 stray cats?