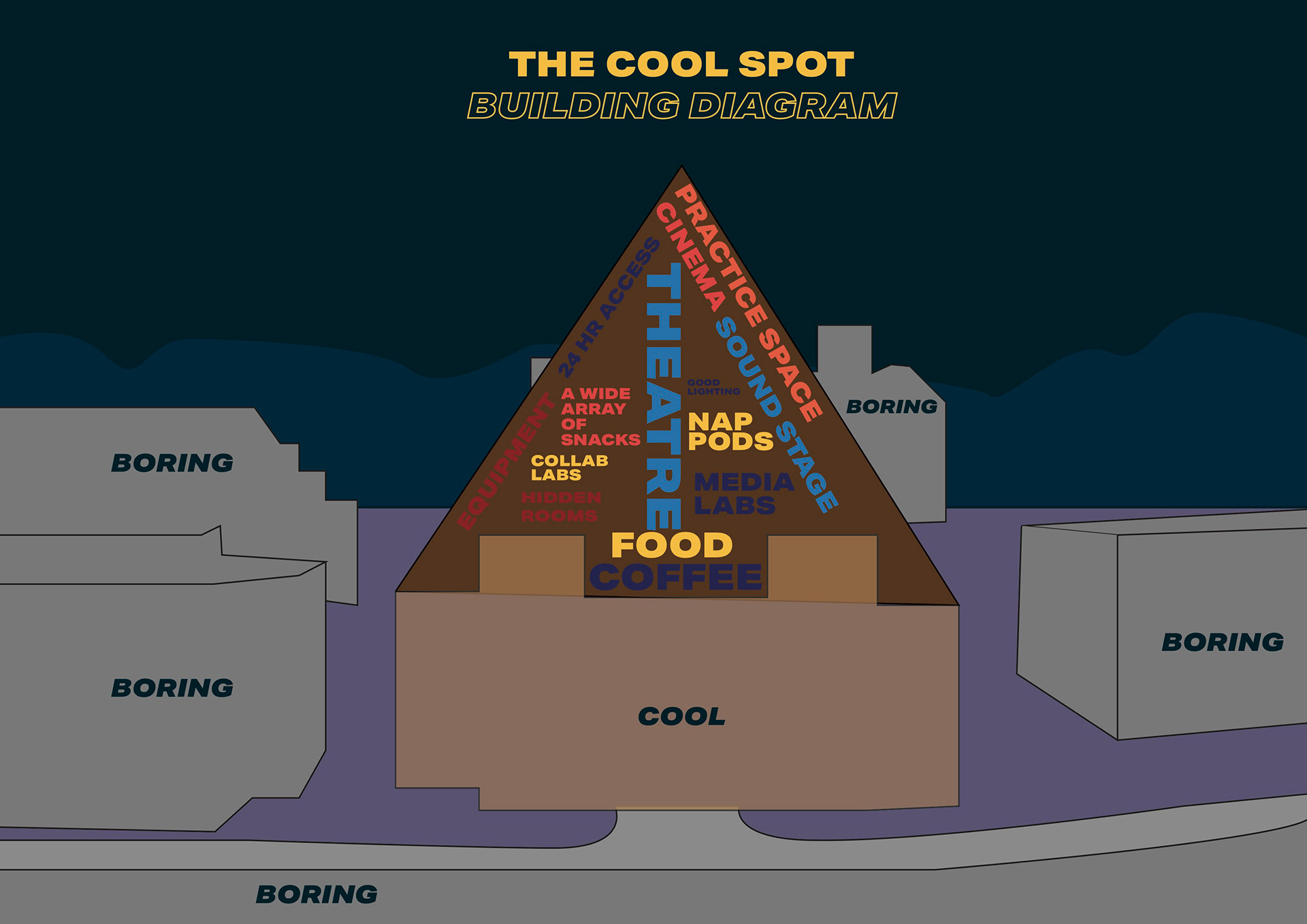 Proposal: The Cool Spot at Boston College
The Problem:

Boston College is a whole lot of

nice

. Nice buildings; nice resources; nice people; nice, immaculate lawns. Having things be this way is broadly beneficial: it makes for an efficient, comfortable learning environment, and it assures parents that the tens of thousands of dollars they spend each year on tuition is going to good use. 
There is a downside to all this, though: everything looks, feels, and functions the same. It fosters a forgettable milieu of never-ending neo-gothic niceness, and that's a problem. It's a problem because spaces directly impact the way humans think and work and create; if every space is similar, we're robbing students and faculty of the rich creative diversity that college campuses should champion. 
That's why I'm proposing The Cool Spot.

The Cool Spot is a snug little corner of the Boston College campus where creative students can come together, toss ideas around, and then bring those ideas to fruition via a vast array of resources. It's different from all the other spaces: it's not polished, or stately — it's modern and state-of-the-art, sure, but packaged in such a way that feels fresh, exciting and rough around the edges — which are exactly the conditions that creative student collaboration should aspire to. It won't solve the bigger, much more pressing issues surrounding BC's diversity (the college is too white and too rich), but it will be a small step toward creating the campus that it should be.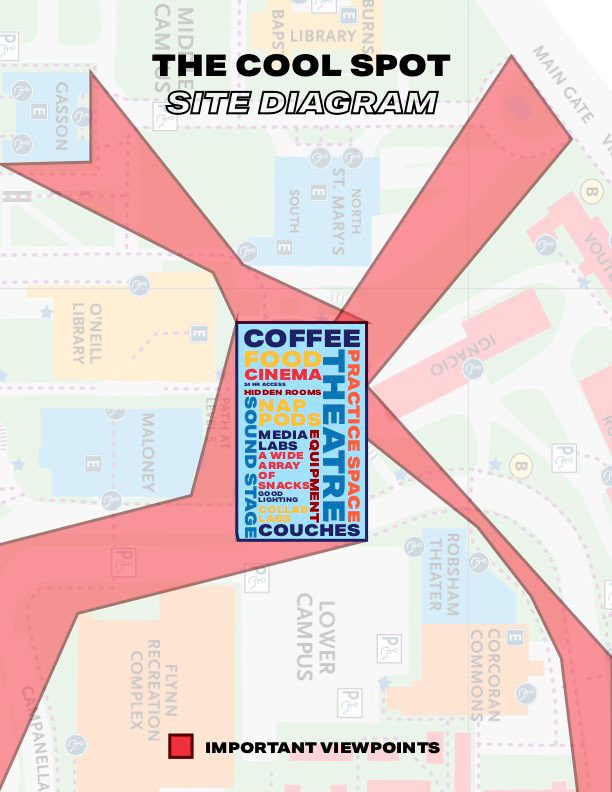 My client

is Father Leahy, who's been the president of Boston College for over 20 years. He's transformed Boston College from a regional college into a national, prestigious university, and as a Jesuit he's made sure religiosity has remained at the heart of the college experience. As an aesthete, however, he falls a little flat; BC's master plan has made no acknowledgement of the fact that neo-gothic architecture is a thing of the past, and indeed plans on constructing several buildings in precisely that style. He's known to be a meticulous and details-driven thinker who likes to oversee even the most minute of plans, and his style has made its impact on the Boston College landscape: the sameness, the niceness, is all Fr. Leahy. He doesn't believe community exists on buildings that have over six floors, and so every building under his presidency has been six floors or less. His love for fresh grass is infamous. Everything is pristine, everything is immaculate, and looks expensive. In a uniquely Catholic turn of events, most campus walls are sparsely decorated, and devoid of major works of art. 
I doubt many people would accuse Fr. Leahy of being the most artistic or adventurous of university presidents; a plethora of colleges such as MIT and Vassar have managed to pay homage to the architecture of yesteryear while still embracing newer, modernist structures — Boston College, not so much. Indeed, the school plans to knock down the few more modern pieces it has and replace them with yes, you guessed it: neo-gothic architecture.
​​​​​​​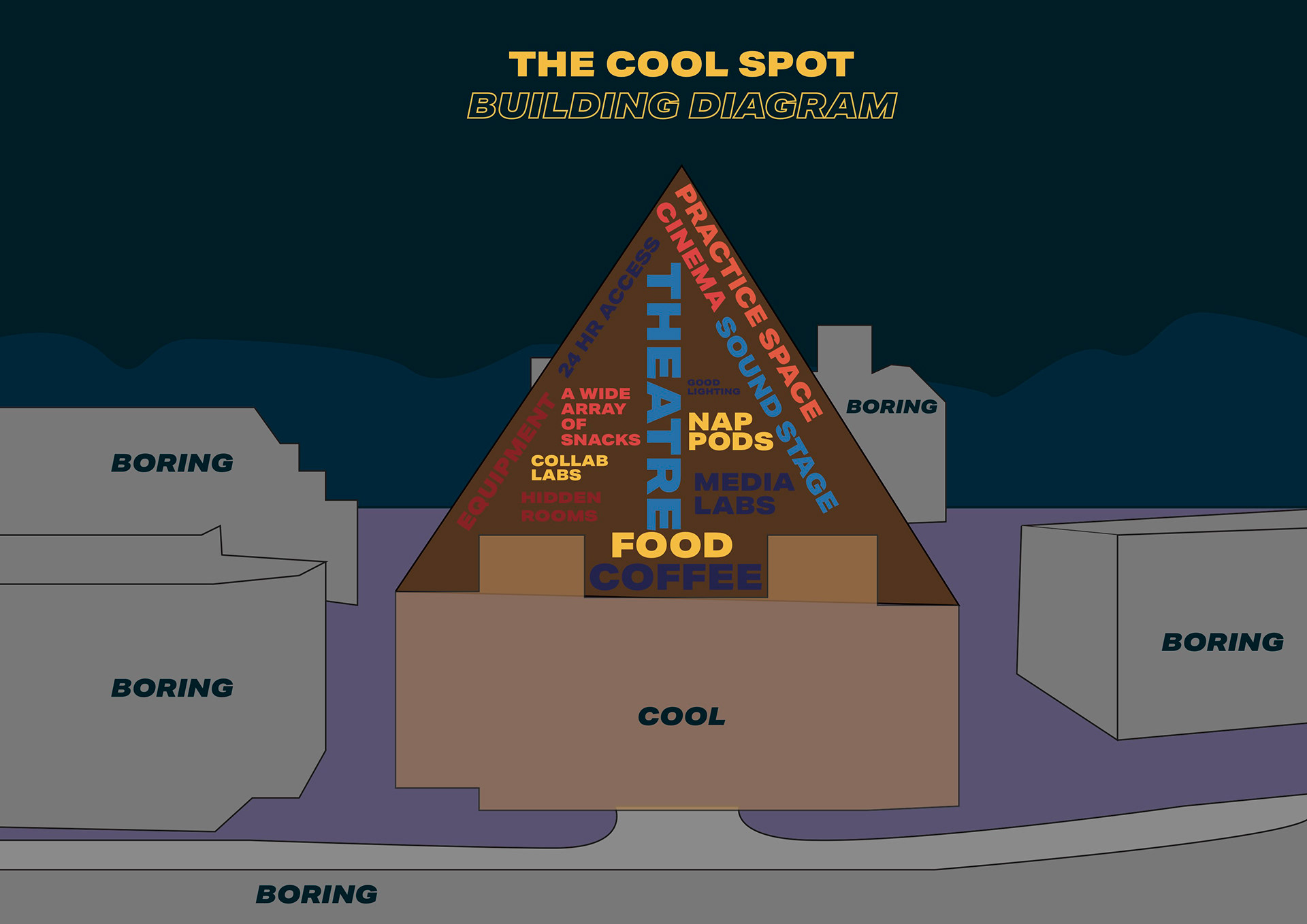 Which leaves us with the question:

with a president who doesn't seem to value cool, how do you develop a space that fuses iconoclastic counterculture with institutional respect? How do you fill the niche that many creative students desperately crave, while also satisfying a rigid and unyielding aesthetic? Is the schism too great to bridge? Or is there something in that underlying tension that can be pulled out, jotted down, and expressed as a physical space?
That is the subject of my investigation. Another crucial aspect of the space is what it ends up being; if the end goal is creating a comfortable meeting and collaboration space that's versatile and flexible, what exactly are the conditions that help actualize that objective?
It's got to be a space that embraces spontaneity, rule-breaking, and makeshift building. In short, it's got to be the Minecraft of college spaces. It's also got to feel like it's somewhere people can meet and hang out — with disparate creative departments often being structured in ways that feel silo-ed and fractious, how do you break out of that? How do you get visual artists and musicians and writers and coders in a room together, and more importantly, how do you get them to have fun doing that? 
Like anything that's trying to bring different people together, the answer is multi-faceted

, but I think it starts with the coffeeshop. The idea of the nearby, off-campus independent coffeeshop has captivated the minds of college students across the college for decades, and what's more is that it works. Every college has one; it's usually a short walk from a main campus, and it's disproportionately staked out by the disenchanted, cigarette-smoking portion of the student body. It's seen as a welcome retreat from college: different, cozy, and comfortable — the kind of place you can curl up on an armchair with a good book and a mug of piping-hot coffee.
I think you can take that homely attitude and put it right into a college building: a cozy nook — with some brighter, airier spots — at which students want to chill out and allow themselves to feel vulnerable. It has to feel decidedly different from the other on-campus coffee shops; it's got to appeal to the weirdos and everyone else who doesn't feel that they quite belong. It has to feel like it's theirs, and nobody else's. 
A lot of this will be interior decorating; a lot of student artwork, a lot of strong aesthetic decisions, interesting furniture. Management will also be crucial; many colleges have their more hip coffee spots be student-run, and I think something like that could work quite well at Boston College. Yet still I think the architectural components have a major role to play too: the coffeeshop should have different "zones," which vary from dim and dingy to bright and airy.
I think a natural place for this space is on top of the Lower Campus parking lot.

It's close to both academic and residential buildings, it's well-trafficked, and it offers a commanding view of lower campus and the Boston skyline. It has to feel like a space that students can alternate between dropping in to grab a quick coffee and holing up for hours at a time. 
And that, right there, is The Cool Spot.